School Garden News
Santa Cruz, CA – At last year's National Farm to Cafeteria Conference, school garden professionals convened to create a national network for supporting regional school garden programs. Through sharing resources and engaging in dialogue, the newly formed National School Garden Network (NSGN) strives to eliminate redundancy and help facilitate regional-based school garden programs. The Network is calling organizations and individuals that support multiple school garden programs at a regional, school district, or state level to join the online forum.
"There is no one way to create and sustain school gardens", states Life Lab Outreach Director John Fisher, founding member of the NSGN. "The recipe for a successful school garden program varies from region to region, but organizations often have similar needs such as acquiring funding, creating policy, training teachers, and creating valid assessment tools. Our Network's goal is to create an ongoing dialogue to share best practices."
School garden support organizations can visit www.nationalschoolgardennetwork.org and join the  online forum or browse webinar topics related to school garden program development. Additionally,
national and regional conferences are listed to encourage school garden support professionals to meet face-to-face.
"Managing school garden programs is a challenge, but I believe creating a support community for its professionals is the key to sustainment," says Sam Ullery, school garden specialist at the DC Office of the State Superintendent of Education. "My experience supporting more than 90 school gardens in the District of Columbia is successful, in part, because I've had a network to rely on. I look forward to participating in this new forum where I can expand my network and share what I've learned with others."
The National School Garden Network is comprised of the following Advisory Committee organizations from across the nation:
Life Lab – Santa Cruz, CA (John Fisher)
UC Davis School Gardening Program – Davis, CA (Jeri Ohmart)
DC Office of the State Superintendent of Education School Garden Program – Washington, DC (Sam Ullery)
Community Groundworks – Madison, Wisconsin (Nathan Larson)
New Jersey Farm to School (Beth Feehan)
Whitson's Culinary Group – New York (Bill Whitcomb)
Edible Schoolyard Project – Berkeley, CA (Emilie Gioia)
National Farm to School Network (Mary Stein)
Visit www.nationalschoolgardennetwork.org to learn more.
Jane Andino, Teacher/Volunteer and UCLA Education Graduate Student had an idea. She envisioned an educational curriculum that would involve students acting as catalysts for a widespread movement: one in which each school and community would create and nurture a communal garden.
Her idea was realized at Mark Twain Middle School in Venice, CA with considerable help from a talented group of volunteers, a dedicated teacher, Jill Usui, and the hard work and creativity of a special group of 7th and 8th grade students in the Advancement Via Individual Determination (AVID) class.
Over the course of this past school year, the students researched the history and daily maintenance of their well-known school garden and then created a resource packet, a brochure and the above video to inspire other communities to build and maintain their own school garden. For more information about The Process and The Schedule of this unique pilot program please visit Jane's website at creatingschoolgardens.wordpress.com.
One lesson they learned immediately is that the creation of a school garden cannot be done alone. Many hands are needed. Fortunately for Jane and her students, Mark Twain Middle School already had some very formidable volunteers in the way of Master Gardeners and Community Volunteers who call themselves the Gardenistas.
The Gardenistas were responsible for not only assisting Jane and her students in their project but also crafting the Mark Twain MS School Garden into the jewel it is today.
Well done Mark Twain Middle School, your namesake would be proud!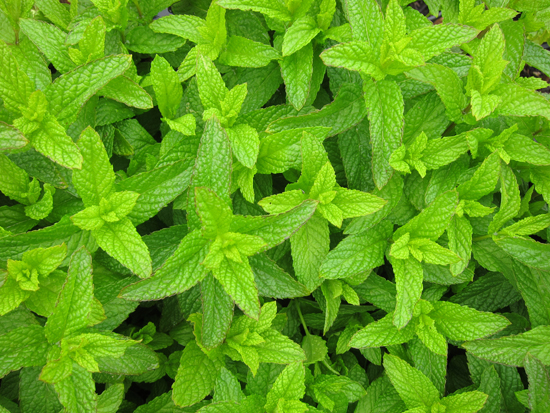 Great article from University of Florida Master Gardener Program.
It's time for kids to go back to school, which also means it's time for teachers to start thinking about their school gardens. You can help a local teacher and school garden by purchasing a few things on their school garden shopping list.
School & Office Supplies
Pens or permanent markers: for labeling plant markers, spray bottles, seed packets, etc.
Graph paper: for laying out fall or spring garden plans
Ruler: for straight boxes and rows on the garden plan
Notebooks: the small pocket-sized ones are great for taking notes while in the garden or bringing to the nursery, home center, etc.
Blunt-tip scissors: plenty of stuff to cut, so get a decent pair
Popsicle sticks: great as labels for transplants, seed flats, or in-garden bed plantings
Hardware
Hobby/utility knife: cutting string, fabric, bags, plastic mulch, etc.
Linseed oil: for preserving and maintaining your garden tools
Housewares
Plastic baggies/paper lunch bags: use these to hold packets of seeds, soil to be tested, and for distributing the harvest to friends, neighbors and food banks
Plastic containers with lids: store seeds, soil amendments, bulbs, tools, etc.
Cooking knives: for removing or chopping up plant matter bound for the compost pile
Towels: for wet cleanups
Colander: for washing your freshly harvested veggies prior to bringing them inside
Clothing
Child-sized rubber boots: keep several sets for the classroom
Aprons or big shirts: to cover the kids school clothes when in the garden
Large hats: keep small faces and bodies covered in shade
Pharmacy
Insect repellant: check with parents before applying to a child
Sunscreen: protect from sunburns, but, again, check with parents before applying
Hand sanitizer: goes without saying, with what kids get their hands into
Warehouse
Boxes: for new planting areas or for your worm bin
Newspapers: for that worm bin
Nursery (check to see if they'll donate)
Seedlings: these are often better for schools, since kids can see them growing immediately
Seeds: these are cheap and kids love seeing their plants pop out of the ground
Worm bin: fun project for classrooms
Mulch: always a needed supply for the school garden
Potting soil: another always in need supply for the school garden
Pots: several different sizes are always good for teachers
Compost bin: these are great projects for classrooms, and the best ones for classrooms are the ones that can be turned and are off the ground
Although most of the supplies needed to start gardening or composting will be purchased by the individual schools, supplemental funding for the program comes from a variety of other sources. Help is always needed, so check with your local schools to see what they may need.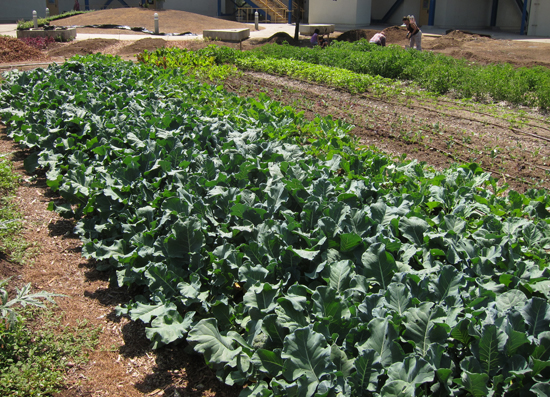 Job creation has been an important theme in our country the last couple of years.  President Obama is struggling with it, the presumptive GOP nominee is struggling with it, and Congress is struggling with it.
At John Muir High School in Pasadena, CA, three volunteers have come up with a school garden model that is creating jobs for students.
On about an acre and a half of land Master Gardener/Project Manager, Mud Baron, Master Gardener/Retired School Teacher (and alumnus of John Muir High), Doss Jones, and Pasadena Unified School District Facilities Grounds Coordinator, Shirley Barrett, have succeeded where so many others have been left baffled.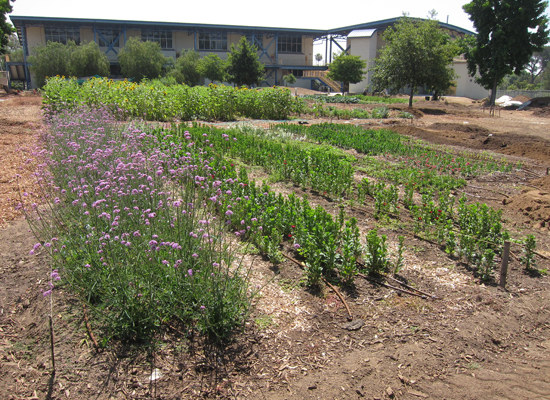 Under their guidance and tutelage and with help from many other dedicated volunteers, students are turning this school garden into a mini-farm enterprise. They are also getting help from various grants and foundations as well as commercial growers and seed companies that provide seeds and seedlings.
Produce and flowers are sold at the Pasadena Farmer's Market and the Hollywood Farmer's Market. Partnership with local farms has created a Community Supported Agriculture (CSA) drop-off hub at John Muir HS for local residents to purchase healthy, organic fruits and vegetables. Produce from the school garden is added to each box.
Students are learning lessons that go far beyond the typical high school experience; they are learning nutrition, commerce and cooperation. They are learning the responsibility of holding a job, showing up on time without excuse, and perhaps for the first time in their lives, earning an honest wage from work completed with their own hands.
Any person who takes pride in their work takes pride in themselves. This is a lesson that cannot be taught without experience. John Muir High School Farm is giving students this experience.
For more information see these video interviews:
1) Interview with Mud Baron
http://youtu.be/A6r3BKDXFno
2) Interview with Doss Jones
http://youtu.be/-9lRJukIwkY
3) Interview with Shirley Barrett
http://youtu.be/RMUaNCYv6mY
Garden Tool Company will give three lucky schools a gift certificate for $500 dollars, so they can pick the tools that will help their school garden program the most.
How to Enter
Are you with a school or do you know of a school that has a garden program and could benefit from some garden tools for the students?
If so, just send us an email from the school's email system and tell us about your gardening program and how you're school and the kids could benefit from winning these tools. (One entry per school please and schools located in the United States)
Send your email to: schools@gardentoolcompany.com
On April 1st, 2012 we'll pick three lucky winners and contact them via their email address.
By James Gardeneer, Principal, Austin Road Elementary School, Mahopac, NY
I think we can all agree it has been an unusual winter.  It's now the end of the first week in February and we still have no snow on the ground.  The temperatures are frequently hitting the low 50's, and there are reports of birds already beginning their spring migration back to the northeast. Despite the unusual weather, and my desire for at least one significant snowfall, I am already turning my thoughts to spring, to warm sun, and of course, to our new school garden.  When I look out on our now dormant beds, I see one thing.  Potential.  Potential for our school to completely integrate a new learning environment into the fabric of our school culture.
As a former life science, biology, and AP environmental teacher (for over 20 years), my transition to an elementary principal 18 months ago was, at times, dramatic.  However, the one goal I did want to pursue was to incorporate as much science into our elementary program as possible and, in particular, get students out into the field to observe, to record, to enjoy nature, where it deserves to be enjoyed – outdoors.
With support from teachers and our amazing PTO volunteers, we created a proposal to build a school garden on our grade 1-5 campus.  Despite the fact that this was not an inexpensive proposition, our PTO generously approved the project and lent their full financial support to the endeavor.   The garden was completed in late July of 2011, just in time for our summer reading camp participants to plant our first small crop.
Our 630 students returned in the fall to an amazing new structure on campus.  To say that anticipation was high would be an understatement.  Our students energetically jumped into planting over 700 seedlings in our new Austin Road garden.  The majority of our teachers participated in this first round of fall planting, and those that did not, did express some regret at not doing so.  It gave me great joy to see many classes going out in the garden throughout the fall as they measured, made drawings, and examined their plants to see the amazing growth.  Students seemed relaxed and happy outdoors even when getting their hands dirty.  Despite a freak 16″ snowfall at Halloween, many of the plants survived and continued being observed and examined by our students throughout most of November.  Staff too went to the garden to pick some of the lettuce and bok choy plants for home use.  In late November, we blew out the water lines and officially buttoned things up for the winter.
Now as we move into mid-February, I realize that we have a lot of planning and work ahead.  Good work and with great potential for positive outcomes.  With the help of TGS, we have been contacting other schools to "borrow" curriculum ideas and suggestions.  In addition to administrative and teacher input, we have parent volunteers that are very much a part of all of our planning.  We even have one amazing 3rd grader, Max, who is heading up our organic insect control research.  Could he be a future world famous botanist or entomologist?  Only time will tell.
Once again, our PTO has backed our most recent requests with additional financial support.   With their generous help we are bringing an outside curriculum consultant to our school to help create a planting schedule, design activities and lessons, and integrate our garden into our school curriculum.  Everyone agrees that we don't need another "add on."  The school day is already too busy for that.  Therefore, our goal is to make our garden part of the school itself.  Our hope is to make it as integrated into our student's lives as the playground itself.  When this happens, and I am convinced it will, I will feel satisfied that the true potential of our garden has been realized.  In the meantime, we are all, students, teachers and parents alike, enjoying the process of building a school garden program.
As we move into the 21st century, our students are immersed in a technological world.  Yet they also need real life experiences in nature.  In my humble opinion, they will certainly benefit from planting a seed, watching it grow, and harvesting a vegetable.  To me, this is where true learning and greater appreciation for our global resources is born and thrives.  Who knows what impact these experiences will have on their overall life?
About Teich Garden Systems
Teich Garden Systems custom designs and installs animal-resistant, sustainable school, community and residential garden systems for gardeners of all ages and abilities. Teich Garden Systems require very little upkeep and maintenance enabling you to enjoy your garden's bounty with minimal effort. www.teichgardensystems.com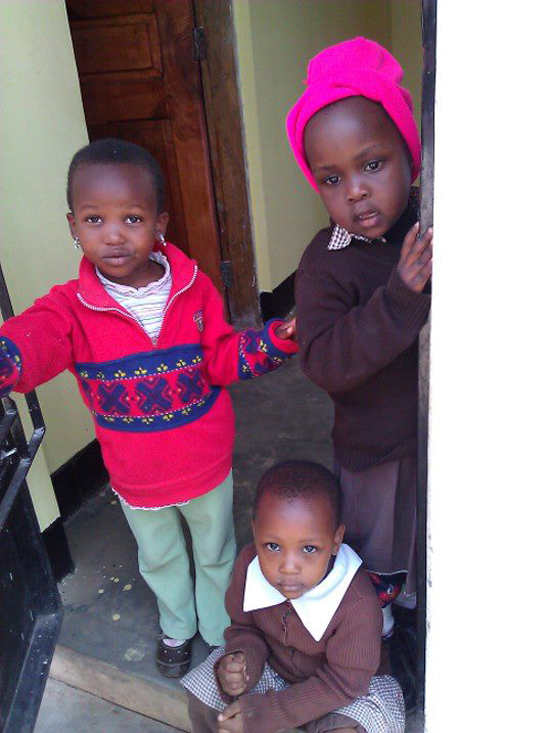 Our story begins with David Gido, Headmaster of the Making a Difference Foundation Tanzania (MDFT) Garden School, a small primary school in Arusha, Tanzania, the gateway to the best Safaris in Africa.
As a teacher, David wanted to do something about the growing number of HIV/AIDS orphans that were not attending primary school. He started tutoring about 10 children after school and the numbers soon grew. He then enlisted the help of a few of his school colleagues and paid them from his own meager salary. Soon, kids as young as 3 years old were walking very long distances to attend David's school, which by now became the only viable education option for many of these families whose parents make on average about $2-$3 a day. Although there is currently a government initiative for change, most Tanzanian public schools are not free and parents must pay fees along with buying uniforms and supplies.
David grew up as an orphan himself. He was born in Rwanda, where his father was killed in the Hutu/Tutsi conflicts.  His mother returned to her native Tanzania, and as is common, David was not well accepted by his new stepfather's family. As a result, he has a soft heart for indigent children who face a life of extreme poverty and difficulty because of circumstances outside their immediate control.
David felt such empathy that with his own money he rented a building and started a school. His objective was both simple and lofty – to create an education model that can make a profound and lasting difference in the students' lives in order to transform their future. It is his wish to educate Tanzanian's next scientists, business entrepreneurs, social developers and decision makers.
Around this time a kinship began on Facebook between David and Matinga Ragatz, an innovative and dynamic high school teacher in Michigan. Among her many accomplishments, Matinga was named Michigan Teacher of the Year for 2010/11 and in 2011 became a NASA certified Educator.
Matinga immediately felt a kinship with David as a teacher that aims out of the box.
"We began to dream together," she said. "David wants to provide an education that truly makes a real impact in these young kid's lives. We are collaborating on this prototype hoping to collect data and demonstrate an effective education model that can help transform the skills needed to provide a better quality of life for our students as well as for their community."
One of their benefactors is Todd "TJ" Duckett. He is a former NFL running back and now a philanthropist and founder of New World Flood, an organization focused on encouraging young people to take up the slack during the economic down turn through volunteering and service to their communities. TJ visited the MDFT primary school in the summer of 2011 and is the inspiration behind the naming of the school farm, the Flood Garden.
On the MDFT blog, David explains it this way, "We decided to call our little farm the Flood Garden because we intend to flood our community with children who are skilled and able to take up the current economic slack and help fix the immediate issues in their own communities. We also want to FLOOD the community with innovative ways to improve their diet, income and budgets from the ideas of our little urban farm."
From the start, the school farm was imagined as an integral part of the school.
"The school farm would help us diversify our income, start a parent cooperative where they could exchange sweat equity for school fees, create outdoor classrooms to lessen overcrowding within the traditional 4 walls, replace the immediate need for traditional books, labs and other conventional resources (the farm is the best textbook!!), introduce a better diet for our school meals program, create Kitchen Garden models to spread to our community the idea of growing one's own food in a crowded, low income urban setting, and among many, many other things, create a place were our teachers could learn and innovate their lessons and skills every day!"
The MDFT teachers, although young, are very enthusiastic about participating in the Flood Garden learning model. The idea of making a Maasai style house as an outdoor kitchen came from them.  They are interested in teaching history to the students by showing them traditional Maasai building techniques. Currently the teachers make less than $1,000 a year, which is not enough to provide them with a living wage, so the teachers sleep in the school at night.
Along with this dedicated teaching staff, David has been able to gather support from parents, students and community members. Because they are low on funds they are able to find resources in the form of knowledge, materials, and care. One of the first people they met was Cecilia, a local community member with a degree in Agriculture who is turning her property into a nursery for exotic plants and ponds. Cecilia has been incredibly supportive and generous with her time consulting with the school staff on horticultural matters.
The MDFT Garden School is like a small seedling. There is still much room for growth.
Phase 1 is the current Primary School Garden (ages 2-7) with an emphasis on curriculum and self-sufficiency.
Phase 2 will be to expand the school physically to allow students to continue their education throughout their school careers (ages 8+).
As Matinga explains, "We want to study the impact of our education model on the future economic opportunities of our students but we cannot do that if our students leave our system at age 8."
To this end David and Matinga are hoping to purchase 10+ acres of land that would allow them to:
a) build additional space for the school
b) expand farming efforts to provide a better meal plan for the students
c) expand the farm (both crops and fish ponds) to create a surplus they could sell
d) build dormitories and provide a better environment for the homeless children
e) expand the farm to create a Farm Cooperative for widowed mothers
f) expand their project-based education model to provide an innovative Career/Technology Education program for middle and high school students.
Unfortunately, there are currently no funds available for these programs. In the near future we hope to initiate a Kickstarter.com program as well as other fundraising efforts to raise money and awareness.
I'll keep you posted.