School Garden News
Garden Tool Company will give three lucky schools a gift certificate for $500 dollars, so they can pick the tools that will help their school garden program the most.
How to Enter
Are you with a school or do you know of a school that has a garden program and could benefit from some garden tools for the students?
If so, just send us an email from the school's email system and tell us about your gardening program and how you're school and the kids could benefit from winning these tools. (One entry per school please and schools located in the United States)
Send your email to: schools@gardentoolcompany.com
On April 1st, 2012 we'll pick three lucky winners and contact them via their email address.
By James Gardeneer, Principal, Austin Road Elementary School, Mahopac, NY
I think we can all agree it has been an unusual winter.  It's now the end of the first week in February and we still have no snow on the ground.  The temperatures are frequently hitting the low 50′s, and there are reports of birds already beginning their spring migration back to the northeast. Despite the unusual weather, and my desire for at least one significant snowfall, I am already turning my thoughts to spring, to warm sun, and of course, to our new school garden.  When I look out on our now dormant beds, I see one thing.  Potential.  Potential for our school to completely integrate a new learning environment into the fabric of our school culture.
As a former life science, biology, and AP environmental teacher (for over 20 years), my transition to an elementary principal 18 months ago was, at times, dramatic.  However, the one goal I did want to pursue was to incorporate as much science into our elementary program as possible and, in particular, get students out into the field to observe, to record, to enjoy nature, where it deserves to be enjoyed – outdoors.
With support from teachers and our amazing PTO volunteers, we created a proposal to build a school garden on our grade 1-5 campus.  Despite the fact that this was not an inexpensive proposition, our PTO generously approved the project and lent their full financial support to the endeavor.   The garden was completed in late July of 2011, just in time for our summer reading camp participants to plant our first small crop.
Our 630 students returned in the fall to an amazing new structure on campus.  To say that anticipation was high would be an understatement.  Our students energetically jumped into planting over 700 seedlings in our new Austin Road garden.  The majority of our teachers participated in this first round of fall planting, and those that did not, did express some regret at not doing so.  It gave me great joy to see many classes going out in the garden throughout the fall as they measured, made drawings, and examined their plants to see the amazing growth.  Students seemed relaxed and happy outdoors even when getting their hands dirty.  Despite a freak 16″ snowfall at Halloween, many of the plants survived and continued being observed and examined by our students throughout most of November.  Staff too went to the garden to pick some of the lettuce and bok choy plants for home use.  In late November, we blew out the water lines and officially buttoned things up for the winter.
Now as we move into mid-February, I realize that we have a lot of planning and work ahead.  Good work and with great potential for positive outcomes.  With the help of TGS, we have been contacting other schools to "borrow" curriculum ideas and suggestions.  In addition to administrative and teacher input, we have parent volunteers that are very much a part of all of our planning.  We even have one amazing 3rd grader, Max, who is heading up our organic insect control research.  Could he be a future world famous botanist or entomologist?  Only time will tell.
Once again, our PTO has backed our most recent requests with additional financial support.   With their generous help we are bringing an outside curriculum consultant to our school to help create a planting schedule, design activities and lessons, and integrate our garden into our school curriculum.  Everyone agrees that we don't need another "add on."  The school day is already too busy for that.  Therefore, our goal is to make our garden part of the school itself.  Our hope is to make it as integrated into our student's lives as the playground itself.  When this happens, and I am convinced it will, I will feel satisfied that the true potential of our garden has been realized.  In the meantime, we are all, students, teachers and parents alike, enjoying the process of building a school garden program.
As we move into the 21st century, our students are immersed in a technological world.  Yet they also need real life experiences in nature.  In my humble opinion, they will certainly benefit from planting a seed, watching it grow, and harvesting a vegetable.  To me, this is where true learning and greater appreciation for our global resources is born and thrives.  Who knows what impact these experiences will have on their overall life?
About Teich Garden Systems
Teich Garden Systems custom designs and installs animal-resistant, sustainable school, community and residential garden systems for gardeners of all ages and abilities. Teich Garden Systems require very little upkeep and maintenance enabling you to enjoy your garden's bounty with minimal effort. www.teichgardensystems.com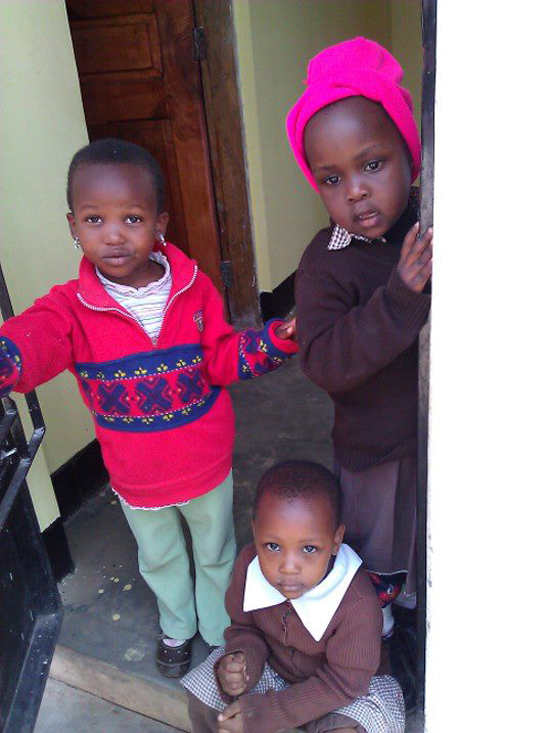 Our story begins with David Gido, Headmaster of the Making a Difference Foundation Tanzania (MDFT) Garden School, a small primary school in Arusha, Tanzania, the gateway to the best Safaris in Africa.
As a teacher, David wanted to do something about the growing number of HIV/AIDS orphans that were not attending primary school. He started tutoring about 10 children after school and the numbers soon grew. He then enlisted the help of a few of his school colleagues and paid them from his own meager salary. Soon, kids as young as 3 years old were walking very long distances to attend David's school, which by now became the only viable education option for many of these families whose parents make on average about $2-$3 a day. Although there is currently a government initiative for change, most Tanzanian public schools are not free and parents must pay fees along with buying uniforms and supplies.
David grew up as an orphan himself. He was born in Rwanda, where his father was killed in the Hutu/Tutsi conflicts.  His mother returned to her native Tanzania, and as is common, David was not well accepted by his new stepfather's family. As a result, he has a soft heart for indigent children who face a life of extreme poverty and difficulty because of circumstances outside their immediate control.
David felt such empathy that with his own money he rented a building and started a school. His objective was both simple and lofty – to create an education model that can make a profound and lasting difference in the students' lives in order to transform their future. It is his wish to educate Tanzanian's next scientists, business entrepreneurs, social developers and decision makers.
Around this time a kinship began on Facebook between David and Matinga Ragatz, an innovative and dynamic high school teacher in Michigan. Among her many accomplishments, Matinga was named Michigan Teacher of the Year for 2010/11 and in 2011 became a NASA certified Educator.
Matinga immediately felt a kinship with David as a teacher that aims out of the box.
"We began to dream together," she said. "David wants to provide an education that truly makes a real impact in these young kid's lives. We are collaborating on this prototype hoping to collect data and demonstrate an effective education model that can help transform the skills needed to provide a better quality of life for our students as well as for their community."
One of their benefactors is Todd "TJ" Duckett. He is a former NFL running back and now a philanthropist and founder of New World Flood, an organization focused on encouraging young people to take up the slack during the economic down turn through volunteering and service to their communities. TJ visited the MDFT primary school in the summer of 2011 and is the inspiration behind the naming of the school farm, the Flood Garden.
On the MDFT blog, David explains it this way, "We decided to call our little farm the Flood Garden because we intend to flood our community with children who are skilled and able to take up the current economic slack and help fix the immediate issues in their own communities. We also want to FLOOD the community with innovative ways to improve their diet, income and budgets from the ideas of our little urban farm."
From the start, the school farm was imagined as an integral part of the school.
"The school farm would help us diversify our income, start a parent cooperative where they could exchange sweat equity for school fees, create outdoor classrooms to lessen overcrowding within the traditional 4 walls, replace the immediate need for traditional books, labs and other conventional resources (the farm is the best textbook!!), introduce a better diet for our school meals program, create Kitchen Garden models to spread to our community the idea of growing one's own food in a crowded, low income urban setting, and among many, many other things, create a place were our teachers could learn and innovate their lessons and skills every day!"
The MDFT teachers, although young, are very enthusiastic about participating in the Flood Garden learning model. The idea of making a Maasai style house as an outdoor kitchen came from them.  They are interested in teaching history to the students by showing them traditional Maasai building techniques. Currently the teachers make less than $1,000 a year, which is not enough to provide them with a living wage, so the teachers sleep in the school at night.
Along with this dedicated teaching staff, David has been able to gather support from parents, students and community members. Because they are low on funds they are able to find resources in the form of knowledge, materials, and care. One of the first people they met was Cecilia, a local community member with a degree in Agriculture who is turning her property into a nursery for exotic plants and ponds. Cecilia has been incredibly supportive and generous with her time consulting with the school staff on horticultural matters.
The MDFT Garden School is like a small seedling. There is still much room for growth.
Phase 1 is the current Primary School Garden (ages 2-7) with an emphasis on curriculum and self-sufficiency.
Phase 2 will be to expand the school physically to allow students to continue their education throughout their school careers (ages 8+).
As Matinga explains, "We want to study the impact of our education model on the future economic opportunities of our students but we cannot do that if our students leave our system at age 8."
To this end David and Matinga are hoping to purchase 10+ acres of land that would allow them to:
a) build additional space for the school
b) expand farming efforts to provide a better meal plan for the students
c) expand the farm (both crops and fish ponds) to create a surplus they could sell
d) build dormitories and provide a better environment for the homeless children
e) expand the farm to create a Farm Cooperative for widowed mothers
f) expand their project-based education model to provide an innovative Career/Technology Education program for middle and high school students.
Unfortunately, there are currently no funds available for these programs. In the near future we hope to initiate a Kickstarter.com program as well as other fundraising efforts to raise money and awareness.
I'll keep you posted.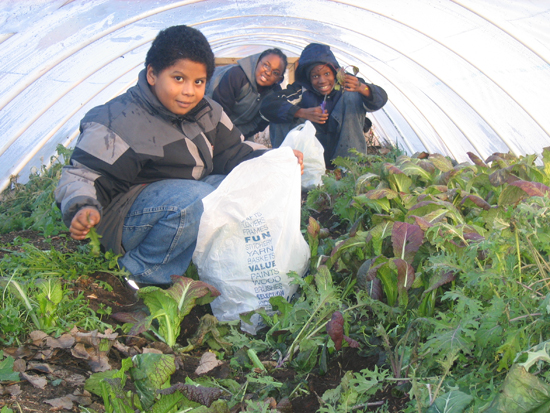 The following is a guest post from OneSeedChicago.com. If you are a Chicago gardener please vote, everyone else, take notes, perhaps you'll be inspired to start a similar program in your city.
NeighborSpace's One Seed Chicago project lets Chicago gardeners vote on their favorite seed then distributes the winning seed for free to encourage urban farming, healthy eating habits, and sitting down for meals with family and friends.
CHICAGO – Gardeners across Chicago started the New Year by voting for their favorite herb seed for One Seed Chicago and the winning seed will be mailed to them for free. This year's candidates are basil, chamomile, and cilantro. As in previous years, One Seed Chicago will teach Chicagoans how to grow the winning seed in their garden. Local chefs and foodies are encouraged to submit original recipes for the community featuring any of this year's candidates to demonstrate how easy it is to go from garden to plate.
"For the fifth year One Seed Chicago is uniting Chicago gardeners," said Ben Helphand, NeighborSpace Executive Director. "By planting a common seed, backyards, windowsills, community gardens and balconies across the City will be linked together in a season-long celebration of urban gardening and local eating."
The three candidates were selected at the annual GreenNet Potluck. Community gardeners from across the city took part in a One Seed Chicago primary election which narrowed the race to the three herb candidates. In addtion, this year One Seed Chicago is expanding voting even further, offering schools, offices, garden clubs and wherever gardeners gather the opportunity to host a polling station.
"This being an election year, we thought we'd celebrate our democracy by growing new voters along with seeds," explains Helphand. "Gardeners who want to host a polling station can download a ballot, poster and Teacher's activity guides from the One Seed Chicago website."
Voting
Voting began on Sunday, January 1, 2012 and continues until April 1, 2012. The winning seed will be unveiled at GreenNet's annual Green and Growing Fair at the Garfield Park Conservatory. To vote simply log onto www.OneSeedChicago.com.
Origins of One Seed Chicago
One Seed Chicago is a project of NeighborSpace, Chicago's land trust for community gardens. Entering its fourth year One Seed Chicago aims to introduce more Chicagoans to the joys and benefits of gardening. Previous winners: Sunflower 2008. Blue Lake Pole bean 2009. Beebalm 2010. Swiss chard 2011. Since 2008 One Seed Chicago has distributed over one million seeds to Chicago residents.
About NeighborSpace
NeighborSpace is a nonprofit urban land trust dedicated to preserving and sustaining community managed open spaces in Chicago. Their growing network of gardens provide thousands of people the opportunity to grow fruits, vegetables and flowers; to restore habitats; and create unique gathering places in their own neighborhoods. NeighborSpace's partners in the community can rest assured that the land will remain dedicated to conservation and their efforts will never be displaced. For more information, please visit www.neighbor-space.org.
By Tricia Elisara, KidsInGardens.com
Often, the clear-eyed observation that "gardens are hard work" is an argument given for NOT starting a garden.  I believe, however, that this truth is one of the most compelling reasons to (ahem) dig in if you hope to teach character education.
In the spring of 2010, Julian Elementary won a National Schools of Character award from the Character Education Partnership.  As such, a team of staff, teachers, and one parent (moi) attended their national conference last year to accept the award.  Funding had been made available to produce a 10-minute film highlighting how character education is taught at the winning schools.  We hired First and Main Media, and they produced a gem of a video, which is now featured on the CEP's website.
After attending the conference last year, I noticed that the idea of school gardens as vehicles for character education was absent from the three-day series of workshops.  As such, I returned to the conference this year with colleagues to lead a session entitled "Gardens that Grow Character."
The intersection of gardens and character education is a theme I plan to explore periodically on this blog, and I thought I'd lay down some history, starting with this film. If you're in a hurry, the garden makes an appearance at minute 6:20.
Upcoming school garden grant deadlines are listed below. Don't delay, apply now.
1) Burpee Home Gardens® is now accepting applications for the 2012 "I Can Grow" Youth Garden Award"
The award will sponsor and support youth and community gardens across the US in 2012. What the Youth Garden Award includes: Up to 500 vegetable and herb plants*, $2,500 for program supplies, On-site assistance for initial garden layout and installation, Installation day event publicity coordination, Five gallons of Daniels® Plant Food (a sustainable fertilizer), Flip® video camera to document garden progress,  *Quantity of plants is dependent upon size of garden and need.
Deadline is December 23, 2011.
2) The Captain Planet Foundation (CPF) provides grants to schools, as well as community-based environmental and educational organizations. No grants are made to individuals or businesses.
Grants from the Captain Planet Foundation are intended to:
* serve as a catalyst to getting environmental activities in schools
and communities.
* inspire youth to participate in community service through
environmental stewardship activities.
Deadline is January 15, 2012
3) Whole Kids Foundation will grant 1000 schools $2000 each to build or expand their school garden.
Deadline is December 31, 2011
4) Herb Society of America – Grant for Educators
Each year, the Grant Committee anticipates funding one or two grants for a total of $5,000. The grant recognizes innovative projects that enhance herbal education in school systems, in communities, or in any public forum (electronic or person-to-person). It requires learning goals and a mechanism to measure the educational outcomes.
Deadline is December 31, 2011
5) California Fertilizer Foundation (CFF)
Provide funding to California public and private elementary, middle and high schools to increase the understanding and awareness of agriculture in California's youth through school gardens. During the 2011-2012 school year, CFF will award 24 grants of $1,200 each to schools in California. At the end of the year, CFF will invite those schools to reapply for a "progress grant" of $1,500 and a free agricultural field trip.
Deadline is January 15, 2012
Burpee Home Gardens® is now accepting applications for the 2012 "I Can Grow" Youth Garden Award. In its third year, the "I Can Grow" program continues to support urban school and community gardens in cities across the United States. To date, the "I Can Grow" program has provided more than 8,000 vegetable and herb plants to help create 16 gardens nationwide.
The 2012 "I Can Grow" Youth Garden Award will be presented to established or start-up school and community gardens that demonstrate well-developed and staffed plans for a youth-centered educational program, with an emphasis on nutrition and food production, environmental awareness, social responsibility and scholastic integration.
Click link above for complete article and link below for application.
Garden grant application available online; due Dec. 23, 2011