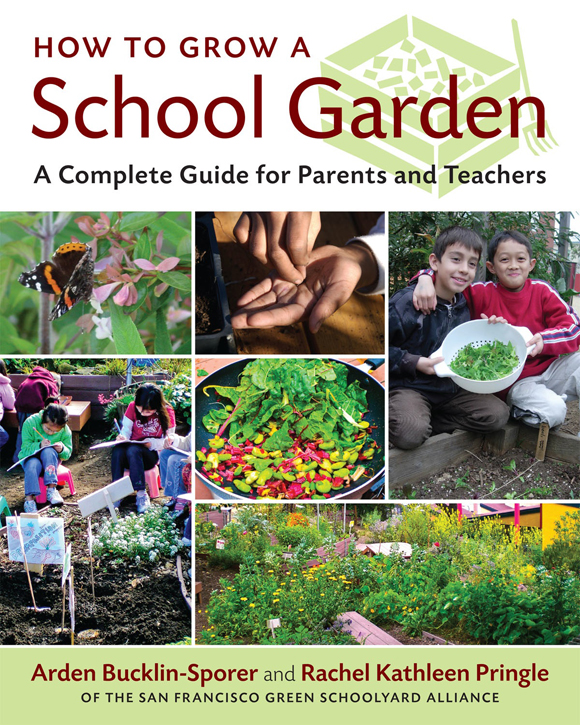 Creating a school garden requires various skills of which gardening is merely one. Authors Arden Bucklin-Sporer and Rachel Kathleen Pringle of the recently published, How to Grow a School Garden: A Complete Guide for Parents and Teachers, understand this well.
These are the ten chapters covering such diverse topics as: design, budgeting, organizing, fundraising and curriculum:
1. Why School Gardens
2. Laying the Groundwork
3. Getting the Most From Your Site
4. Groundbreaking, Budgeting, and Fundraising
5. Developing your School Garden Program
6. A Healthy Outdoor Classroom
7. Tricks of the Trade
8. Planting, Harvesting and Cooking in the Garden
9. Year-Round Garden Lessons and Activities
10. A Decade in a School Garden: Alice Fong Yu Alternative School, San Francisco, CA
Extras include school garden kid-friendly recipes, example of state content standards and a comprehensive resource guide.
Bottom line – How to Grow a School Garden is one of the best how-to books about school gardening ever published. Add it to your summer reading and get growing in the fall.
Smart By Nature: Schooling for Sustainability
By Michael K. Stone/Center for Ecoliteracy
Foreword by Daniel Goleman, author of Ecological Intelligence
Smart by Nature: Schooling for Sustainability portrays the growing sustainability movement in K-12 education, showcasing inspiring stories of public, independent, and charter schools across the country.
This 216-page book describes strategies for greening the campus and the curriculum, conducting environmental audits, rethinking school food, and transforming schools into models of sustainable community.
Smart by Nature is available from Watershed Media/University of California Press in September 2009.
Reserve your copy of Smart by Nature: Schooling for Sustainability from University of California Press.
I've been noticing school rain gardens being mentioned more frequently in news alerts and thought some of you would find this book invaluable.
Written by NCSU horticulturalists Helen Kraus and Anne Spafford, Rain Gardening in the South helps gardeners wisely use our most precious resource—water. Rain gardens maximize rainwater, enhance the landscape, and promote good environmental stewardship.
Runoff contributes significantly to polluting our waterways. The rain garden, which functions as a miniature reservoir and filtration system, offers an effective, visually pleasing solution that dramatically reduces toxic runoff, resulting in cleaner rivers, lakes, and oceans.
The authors define the rain garden as "a garden slightly sunken below grade designed to capture rainfall, store that water to nurture the garden plants, and cleanse runoff, thus removing pollution."
Ironically, rain gardens are more drought-tolerant than conventional gardens. Because of their plant selection and ability to store water, rain gardens flourish during dry spells, as well as rainy seasons, making them particularly conducive to the South.
"Water-wise gardeners are conscious of both the need to limit their water use and the need to minimize runoff, thereby dramatically reducing water pollution," write Kraus and Spafford. "Not only are rain gardens extremely effective in addressing water and pollution issues, they are gorgeous."
Rain Gardening in the South addresses the specific environmental circumstances of southern gardens, such as climate issues, plant selection, and soil types. It details step-by-step instruction on constructing a garden, from the design stage to post-planting maintenance, including plant lists and troubleshooting tips.
Though the specific plant lists are targeted to southern climates, the concepts, diagrams and design templates are universal.  And it is a very easy-to-use guide, full of accessible information about water harvesting, improving water quality, soil types…good hands-on science curriculum.
Publisher's discount: $16 + $4 shipping at enopublishers.org
Over the course of two weeks students wrote, filmed, and directed this short film after reading Paul Fleischman's novel Seedfolks. These stories are the students' stories created on location in Mr. Hughes' English class at Virgil Middle School in Los Angeles, California.
Put this book on your summer reading list, you'll thank me in the fall.
Seedfolks at Amazon.com
Amazon.com Review
Sometimes, even in the middle of ugliness and neglect, a little bit of beauty will bloom. Award-winning writer Paul Fleischman dazzles us with this truth in Seedfolks–a slim novel that bursts with hope. Wasting not a single word, Fleischman unfolds a story of a blighted neighborhood transformed when a young girl plants a few lima beans in an abandoned lot. Slowly, one by one, neighbors are touched and stirred to action as they see tendrils poke through the dirt. Hispanics, Haitians, Koreans, young, and old begin to turn the littered lot into a garden for the whole community. A gift for hearts of all ages, this gentle, timeless story will delight anyone in need of a sprig of inspiration.
Fellow Master Gardener Anne Nagro (Illinois chapter) has recently published a non-fiction children's book, Our Generous Garden. The book is based on Anne's successful seed-to-table elementary school garden project that last year donated 900 pounds of produce to a local food bank. The easy-to-read text written from a child's perspective follows students as they find the perfect garden spot, design their garden, grow seeds in the classroom and plant the seedlings outdoors. A few recipes are included as well. It is available here from Amazon.com or from Anne's website, GardenABCs.com. While perusing GardenABCs, be sure to check out the Resources page, as well as the Library page. Great stuff for both garden and classroom.
10 Gardening Books Guaranteed to Interest your Kids
It's proven to be therapeutic and a good form of mild exercise, it showcases the results of your hard work in the form of beautiful flowers and nutritious vegetables, and it beautifies your house in the most natural way – gardening is not just a hobby but an art that requires concentration and patience. It's fun for kids and a great way to spend time outdoors this summer. So if you're planning on taking your first gardening steps soon, here are a few books that will guide you along the way to a colorful and beautiful garden:
• Planting a Rainbow by Lois Ehlert: This book introduces children to the rudiments of growing colorful flowers of various varieties.
• The Gardening Book by Jane Bull: A book that offers gardening projects for children who are able to garden without adult supervision.
• From Seed to Plant by Gail Gibbons: This book teaches kids about the various stages of development a plant goes through and also includes directions and instructions to grow beans.
• A Handful of Dirt by Raymond Bial: A book that educates kids on the role that plain old dirt plays in the development of plants.
• Roots, Shoots, Buckets & Boots: Gardening Together with Children by Sharon Lovejoy: This book combines instructions for theme gardens and the best plants for children to grow and look after.
• Kids Gardening: A Kid's Guide to Messing Around in the Dirt/With Seeds, Shovel by Kevin Raftery and Kim Gilbert Raftery: The title of this book is self-explanatory – it shows how kids can have fun with gardening activities.
• The Kids Can Press Jumbo Book of Gardening by Jane Kurisu: This book teaches children to grow organic gardens in small spaces like backyards and balconies.
• New Junior Garden Book by Felder Rushing: This book is for kids who are budding gardeners and includes complete project activities both outdoor and indoor purposes.
• Gardening with Children by Beth Richardson: A book that teaches parents to get their children interested and involved in gardening.
• A Guide to Happy Family Gardening by Tammerie Spires: This book gets the whole family involved in gardening projects that are easy to implement.
By-line:
This guest post is written by Heather Johnson, who frequently writes on the subject of online college degrees. She welcomes your comments and freelance writing inquiries at: heatherjohnson2323@gmail.com