Tomatoes plants are almost always transplanted into our garden from seedlings. Whether you grow the seedlings yourself or buy them from a nursery it is best to remove the lower branches and bury the stem up to the uppermost leaves.
The reason we do this is because the hairs along the lower stem will develop into roots. They will enable the tomato plant to take in more water and nutrition from the soil.
It is late winter and many of the crops from our September planting are either finished (cauliflower, broccoli, peas, beets, and carrots) or bolting (cilantro, lettuce, arugula). Now is the time to pick out which plants we want to save for seed. Choose plants that are healthy, vigorous and with characteristics worth saving. The red Lollo Rosso lettuce below is being chosen for its deep red leaves. We have placed a stake next to with a large circled "S" on it. This is to remind us that we are saving this plant for seed and not to harvest it.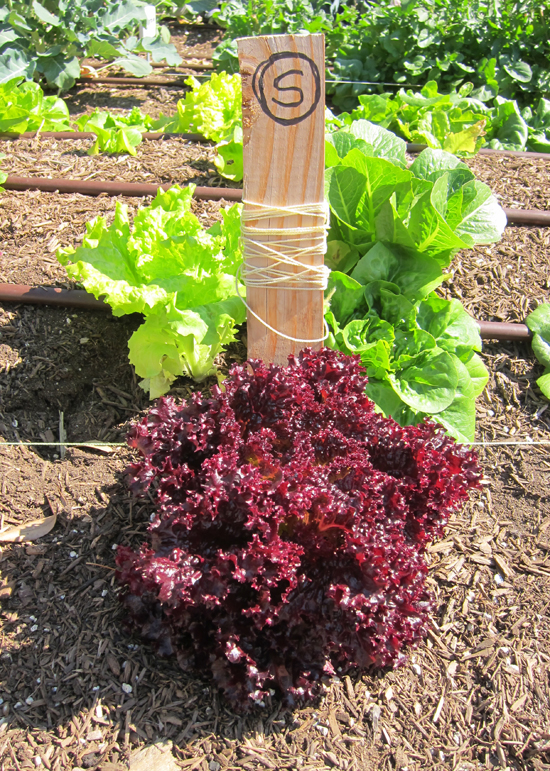 Our arugula was fantastic this year, the lobed leaves were very mild compared to the more bitter arrow-like leaves even late into the season so we are letting the entire patch go to seed.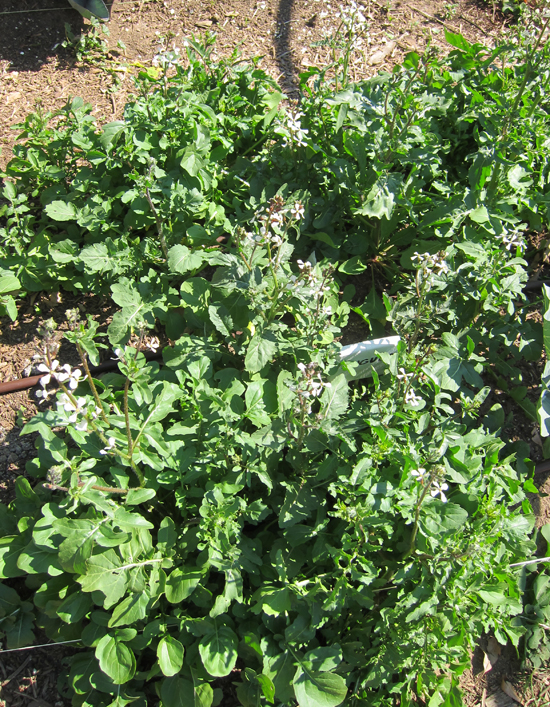 "Maintaining the genetic diversity within a population is the key to its continued evolution and the ability of the plants to adapt to varying environmental conditions. To avoid detrimentally decreasing the genetic diversity being maintained within a population of plants, seeds should be saved from the greatest possible number of plants that meet the selection criteria." – Suzanne Ashworth, "Seed to Seed"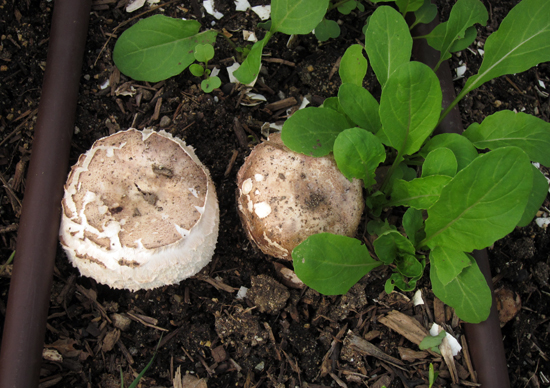 During mild, wet, winter months it is not uncommon to see mushrooms growing among your vegetables. With mushrooms invariably come questions: what is it and what do we do about it.
First, DO NOT EAT THEM, mushrooms may be lethally poisonous, especially with young children and older adults.
A recent case of mushroom poisoning occurred in California when a care-giver at a nursing home picked some poisonous mushrooms and served them in a gravy. Four individuals died.
Mushrooms are a fungus and classified in the kingdom of Fungi, which is different from the other kingdoms such as Animalia, Bacteria and Plantae.
They show up in plant beds often when there is woody mulch present.
In nature, Fungi are part of the great recycling that occurs in forests and other woody areas. When trees and plants die in the forest, mushrooms assist in their decompositon.
To rid your beds of mushrooms do not just remove the mushroom but also the surrounding soil. This way they will have less chance of growing back.
You may dispose of poisonous mushrooms in your compost pile. They are actually very helpful in breaking down organic matter.
For more info see, Mushrooms in the Garden Beds from the Texas A&M Agrilife Extension.
The Common Ground Garden Program of the University of California Cooperative Extension Los Angeles will be offering the MASTER GARDENER VOLUNTEER TRAINING PROGRAM, 13 Saturdays, March 2 – May 25, 2013, 9am-4pm, plus additional required continuing education opportunities to be announced.
Important Dates:
January 4: Last day to request application survey link
January 15: Last day to submit completed online application survey
WHO CAN APPLY
· Any resident of Los Angeles County with an email address and computer access. Most communication will be by email and websites.
· Anyone who wants to help teach low-income and limited-resource people how to grow more nutritious vegetables and fruits.
· We especially invite residents of inner-city neighborhoods and bilingual gardeners.
HOW TO APPLY
You must be on either or both of our resource elists:
1) Community Gardening and Food Security, 2) School Gardening.
· If you're not on either elist, email Yvonne Savio, ydsavio@ucdavis.edu by January 4, 2013 and indicate which elist(s) you want to be on (you can be on both).
· If you're already on either or both elists, email Yvonne Savio, ydsavio@ucdavis.edu by January 4, 2013 to request the online application link.
· Complete and submit the online application by January 15, 2013. No application will be considered before then.
WHAT WE'LL DO
· Accept 50 applicants. Main criteria for acceptance (if you meet these criteria, please apply; if you don't meet these criteria, please gain more experience and apply in the future):
1) prior community service utilizing gardening,
2) know gardening basics,
3) passion for helping low-income gardeners,
4) given presentations,
5) work well with people of diverse backgrounds, and
6) initiative in starting and carrying through projects.
· On February 1, 2013, we will email you whether or not you have been accepted into the program. Please don't contact us earlier.
· If you have been accepted, we will email you a Live Scan form and list of Live Scan locations in L.A. County for required fingerprinting and criminal background check by the U.S. Department of Justice. This must be done for our program specifically, only at these locations, regardless if you've done it for another agency. Note differences in prices, hours, and whether an appointment is required.
· If you have been accepted, we will email you instructions to join our MGs-only Yahoogroup. You can use either your existing email address or your new Yahoo email address to receive all of our MG emails and materials. You will receive LOTS of emails!
· On February 15, 2013, we will post onto the MG-only Yahoogroup your first assignments due on March 2, the first day of class.
· Teach you how to garden successfully. Topics and garden activities will cover basic plant science, propagation, fertilization, irrigation, soil, compost, vegetable and herb and fruit gardening, flowering plants and trees, Integrated Pest Management (diseases, weeds, insects, small animals), tools, how to start community and school gardens, and outreach techniques.
· Provide you with Volunteer and Continuing Education opportunities all over Los Angeles County.
WHAT YOU'LL DO if you're accepted into the Master Gardener Volunteer Training Program
· By February 14, 2013, mail the Live Scan form completed by the Live Scan operator.
· By February 14, 2013, pay course fee online with credit card (you'll receive the link upon acceptance), or mail check for $200 made payable to "UC REGENTS".
Low-income residents may apply for a deferred payment plan – see application for details.
· By February 14, 2013, join our MGs-only Yahoogroup and make sure you're receiving program postings.
· By March 1, 2013, become familiar with our Common Ground public website and our MGs-only Yahoogroup website.
· Attend 13 classes on Saturdays, March 2 through May 25, 2013, from 9:00 am to 4:00 pm, at a location to be announced. You must attend the first class on March 2. After the first class, you may miss only one class – and only with prior notice. Some meetings will be at various garden sites; we encourage carpooling.
· Give gardening workshops at community gardens, school gardens, seniors' gardens, housing development & other low-income gardens.
· Answer gardening questions at gardens and fairs, on your phone, or by your email.
· Help with program activities and workshops.
· Post all your Volunteer and Continuing Education hours on our online Statewide MG Volunteer Management System (instructions provided).
· Starting in June 2013, attend monthly MG Continuing Education meetings on the second Saturday of every month at different garden locations.
WHAT YOU'LL GET
· University of California publication California Master Gardener Handbook; and discounts on other UC publications.
· Certificate of Completion of Class Instruction – after completing the 13-week training program and passing the take-home, open-book examination.
· Monthly Continuing Education meetings with speakers and activities on in-depth gardening topics.
· Frequent emails of Volunteer and Continuing Education opportunities and other program information.
· Annual recertification as an active MG after you post online at least 50 Volunteer hours by June 30, 2014. (Future years' minimum annual requirements are 25 Volunteer and 12 Continuing Education hours.)
· Joy and satisfaction that you're helping other gardeners grow more nutritious vegetables and fruits, you're making new friends, and we're all working together to beautify our neighborhoods and "Green LA"!
For More Information – Email Valerie Borel at vtborel@ucdavis.edu by January 4, 2013.
The University of California prohibits discrimination or harassment of any person in any of its programs or activities (Complete nondiscrimination policy statement can be found at
http://danr.ucop.edu/aa/danr_nondiscrimination_and_affir.htm).
Direct inquiries regarding the University's nondiscrimination policies to the Affirmative Action Director, University of California, ANR, 1111 Franklin St., 6th Floor, Oakland, CA 94607, (510) 987-0096.
Note: Yvonne Savio, Program Manager, will be out of the office from 12/15/12 to 1/1/13. Also, UC Cooperative Extension will be at a new address starting in the new year and we are not sure if our computers will be up and running immediately. Therefore, we recommend that you send Yvonne Savio an email by 12/13 to request the application survey link.
Every season there is a star, a variety that exceeds our expectations either with fruitful bounty or with taste. Last summer it was chayote. This past summer the star was Trombetta di Albenga, an Italian, heirloom, vining squash, that when picked early tastes similar to zucchini only better.
It can be grown either along the ground, which makes the fruits curl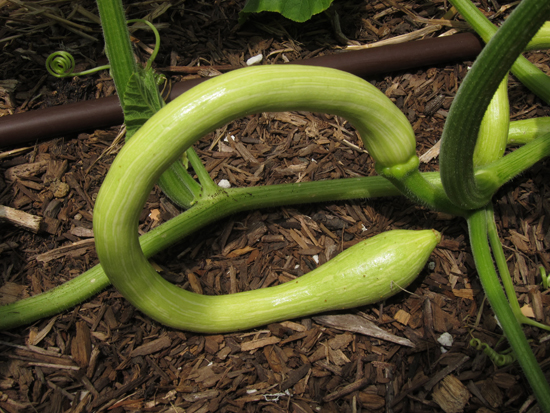 or along a fence which allows the fruits to hang straight.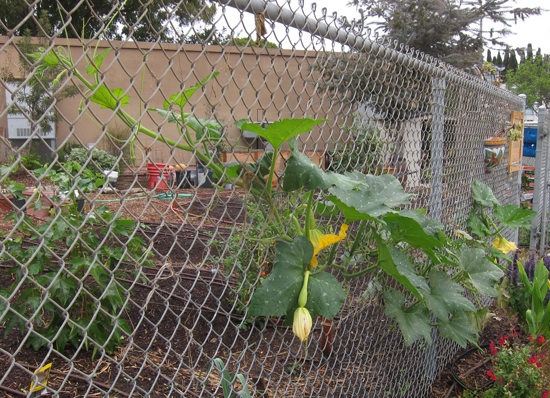 If the fruit is not picked it can grow very large (5-6 ft), though at this point it is no longer edible but can be used like a gourd.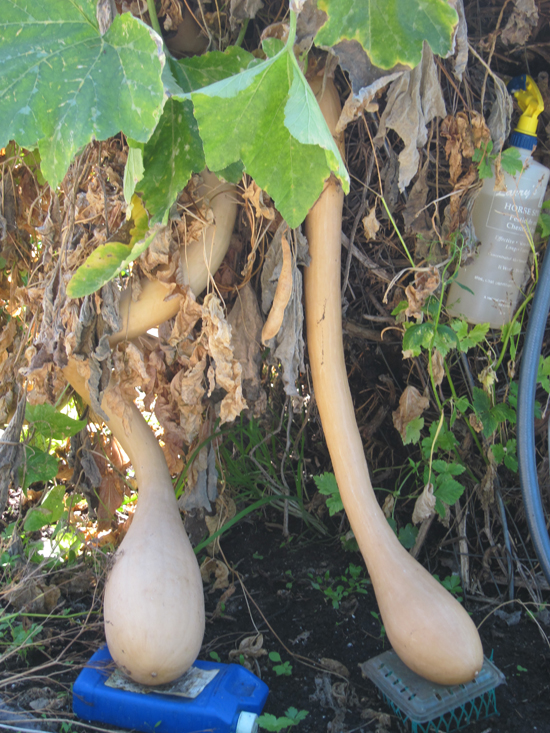 The most amazing thing about this variety is that its November and its still fruiting.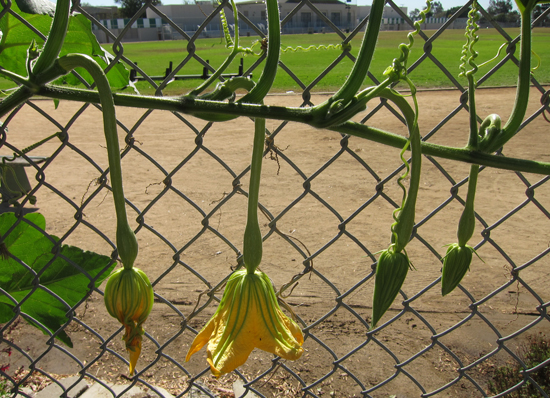 One interesting observation, in the early part of the summer there were many male flowers and fewer female flowers, now at the end of the season, there are many female flowers but very few male flowers.
To insure pollination we manually brought the male and female flowers together. The male is on the left.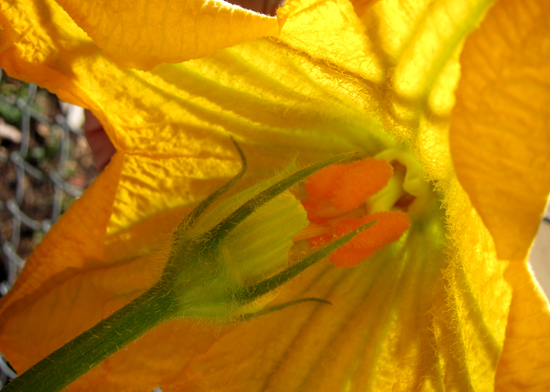 A couple of week later, a botanical offspring…