I have released my first eBook, Bird Song (BG Digital Publishing, 2013). As a special promotion for the holidays the book will be available as a free download for 5 days at the Amazon Kindle Store from December 11, 2013 – December 15, 2013.
Bird Song is a heartwarming story for all ages. Two birds, one with a broken wing, the other blind, must fly together on their migratory journey south. They encounter various adventures along the way and learn first-hand the power of song.
The promotion is a special gift for parents and children who enjoy quality reading time together.
After 12/15, the Bird Song eBook will be available for only $3.99.
To download your copy of Bird Song please visit, http://www.amazon.com/dp/B00GZNOMRS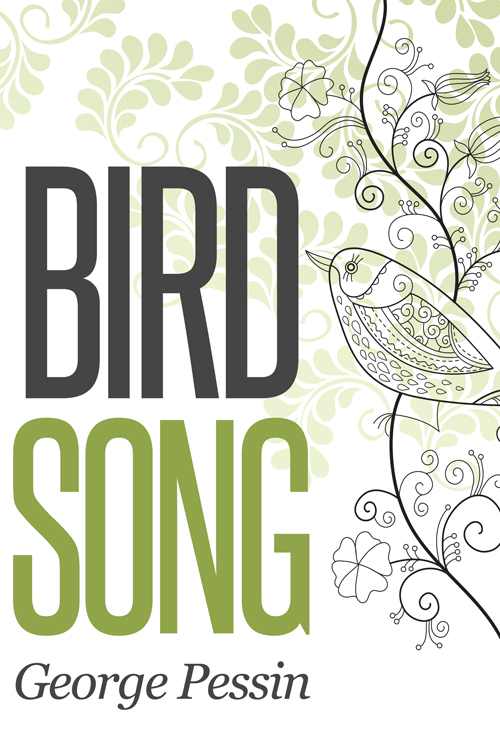 Local farmers, students, teachers and district staff all came together on October 19th to construct the district's newest Hoop House. As a part of the district's "Farm-to-School" initiative, produce grown in the new garden will be harvested for school cafeterias. The goal of this event was to educate students and the community on the benefits of good nutrition as well as creating a prolonged growing season with the construction of a hoop house.
The event was organized by the Shelby County School Department of Nutrition Services in Memphis, Tennessee. For more information or volunteer opportunities contact the Central Nutrition Center at (901) 416-5550.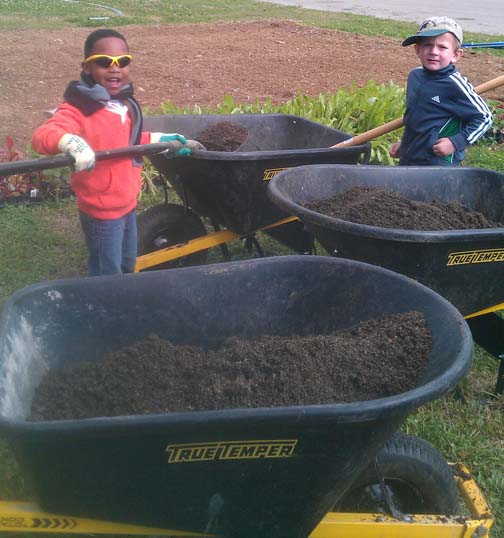 A School Garden journal is an invaluable tool, not only for the success of your garden but also for the myriad of experiments that can be done in tandem.
This is my entry for 10/5/13:
Bed 1 (B1) – Fava Beans germinated (broke through the soil), 1-2 days old. Germination took 10 days.
B2 – Lettuce germinated, about 3 days old. Germination took 7 days.
B3 – Beets and Swiss Chard both germinated. Germination took 7 days.
B4 – Aphids and eggs found beneath swiss chard leaves planted last year. Washed them off with a jet of water. See photo.
B5 – Something ate many of our Brassica seedlings (broccoli, cabbage, kohlrabi, bok choy). Not snails or slugs, no nub left over, no slimy trail. Will replant with floating row cover.
B6 – Peas, Carrots, Celeriac, Cilantro, Parsley sowed seeds 9/28, nothing yet.
Harvesting: last of the pole beans, swiss chard, kale, eggplant, Mexican sour gherkins, oregano, thyme, & chives.
Saved dried pods of pole green beans. Seeds were planted 5/15. Seed-to-seed was 19 weeks. Next year I want to get my sweet peas in earlier. If I want to plant them the third week in September (lets say, September 23rd), and I want to save seeds from the pole beans again, when should I plant the beans? This is one reason why we keep a journal. Can you think of some others?
Maybe this will help -
1. How Does My Garden Grow? Writing in Science Field Journals
This is the layout for the Hamilton High School fall/winter 2013 school garden. What's yours?
Bed 1 – Fava Beans
We will follow this with corn in the spring.
Bed 2 – Lettuce
We will broadcast lettuce seeds creating a lettuce "patch" rather than conventional rows.
Bed 3 – Beets, Swiss Chard, Spinach, Red Sorrel
Red Sorrel is a perennial. We will plant at the southern end of the bed.
Bed 4 – Potatoes, Dandelion greens, Garlic, Shallots.
Garlic and shallots will take the longest. We will plant those at the northern end of the bed.
Bed 5 – Broccoli, Kale, Cauliflower, Choy Sum (red stem), Cabbage, Radishes, Arugula
All the Brassicas are grouped together. Makes crop rotation a breeze.
Bed 6 – Peas, Carrots, Celeriac, Cilantro, Parsley
Other than peas all are in the same family, again facilitating crop rotation. Celeriac is a close relative of celery.
Herb Bed – Oregano, Marjoram, Thyme, Sage, Rosemary, Tarragon, Horse Radish, Ginger, Fennel, Cumin.
Other than fennel and cumin all perennials.
Beans are done; corn is done. Squash plants all have powdery mildew and it appears to be spreading to the cucumbers and tomatoes. Welcome to the dog days of summer.
Usually during this time we not only harvest the remains of our summer crop but we also look forward to the fall and the new season of cool-weather crops. I am perusing seed catalogs as we speak.
Two plants that you must consider this fall are Swiss chard and Kale.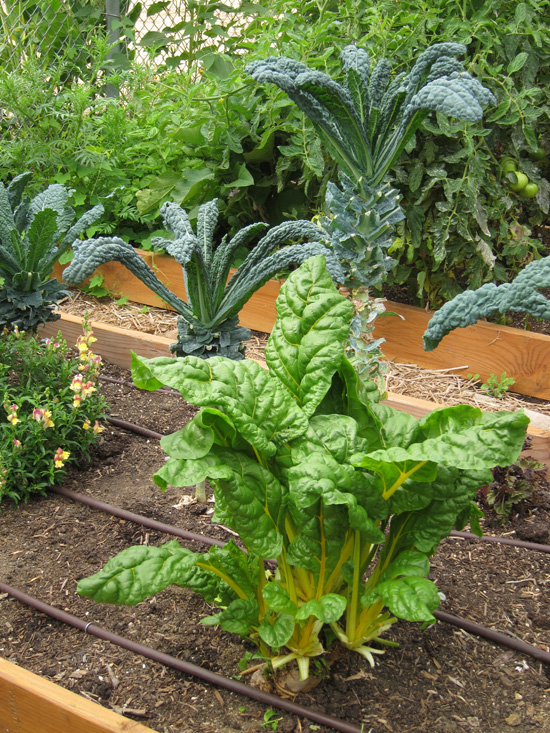 Both are highly nutritious and extremely high yielding. You will get more yearly produce from one square foot of swiss chard than you will from any other vegetable. Period.
Lacinato Kale aka Tuscan Cabbage, Cavolo Nero, Dinosaur Kale or Black Tuscan Palm, is an heirloom that can grow to 5-6 ft tall under ideal conditions. Like Swiss chard it is a biennial, which means it goes to seed every two years.
Kale leaves can reach 18" long so giving the plant plenty of room is key.
We planted both of these in the early fall and both are still producing weekly harvests, even through the dog days of summer.