The following are squash flowers from a zucchini plant. One is male, the other is female. Can you identify which is which? I'll give you a hint…when the male pollen fertilizes the female ovary zucchini seeds are created and the ovary swells to carry the seed.
Here's a thought, wouldn't it be great if "the birds and the bees" were taught where the birds and the bees actually congregate? What do you think?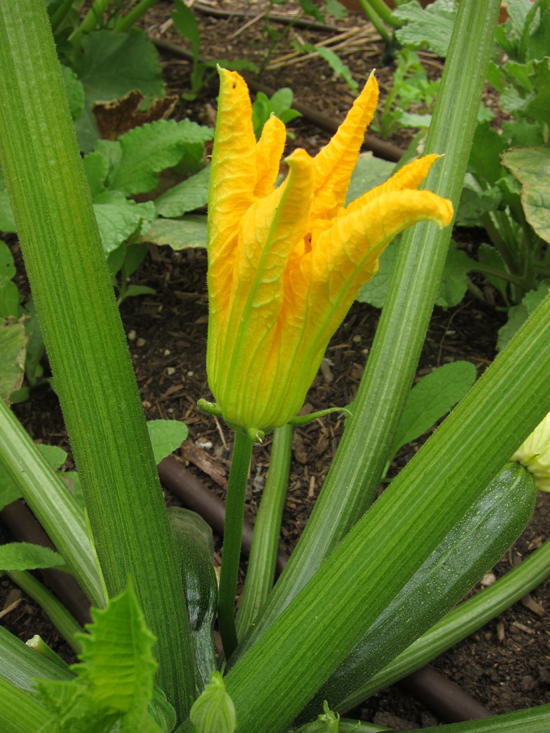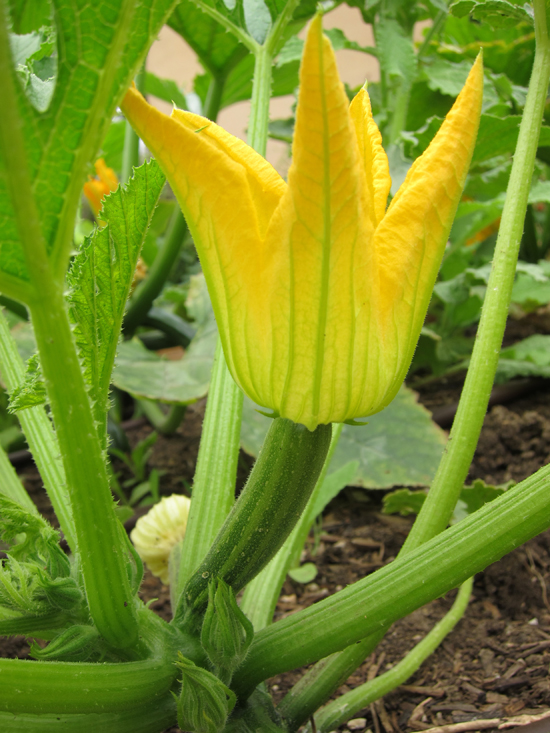 May not be many students around over the summer, but that hasn't stopped our school gardens from performing. Corn is high, tomatoes are plump, cucumbers are fat, peppers are turning color, pole beans are still producing, and zucchinis are abundant.
cherokee purple tomato
Two recipes to utilize all this goodness are included below.
1) Black Bean and Quinoa Salad is courtesy of the Los Angeles County Nutrition Program. Be sure to check out their healthy recipes/cookbooks page and their onsite cookbook of healthy, low-fat, easy to prepare, ethnically inspired recipes (in both spanish and english.)
Ingredients:
½ cup quinoa
1 cup water
1 cup corn
2 scallions chopped
½ cup tomatoes
½ cup green peppers (or red)
1 can black beans drained and rinsed
2 Tbs olive oil
2 Tbs lemon juice
1 clove garlic
2 Tbs cilantro chopped
salt and pepper to taste
optional:
1 cup chopped zucchini
Grilled Shrimp chopped
Grilled Chicken chopped
Soak quinoa for five minutes then drain. Bring water to boil and add quinoa. Lower flame to barely simmer, cover, and cook until all of the water is absorbed (20-30 minutes). Let cool. Mix the remaining ingredients in a bowl and mix well. (Note: bulgar can easily be substituted for quinoa).
2) California Tabboulleh is a variation on traditional tabbouleh.
Ingredients:
1/2 cup bulgar (medium size)
1 cup stock or boiling water
1 lb tomatoes
1/2 cup green onion
1 can black beans
1 cup corn
2-3 cups cilantro
2 jalapeno peppers diced (rib and seeds removed)
1/8 teaspoon cayenne pepper
1/2 tsp. salt if using water
1/2 teaspoon pepper
1/4 cup citrus (lemon, lime and orange combination)
1/4 cup olive oil
optional:
Queso Fresco or mild Feta Cheese
Avocado
1 cup chopped cucumber
1 cup chopped red pepper
Pour 1 cup boiling water over bulgar and allow bulgar to soften while you prepare the other ingredients. Chop tomatoes and leave in a colander to drain. Chop onion, cilantro and pepper. Rinse black beans. Drain and discard excess liquid from bulgar.
Toss bulgar, tomatoes, onion, cilantro, corn and beans. Dress with citrus juice and olive oil. Season to taste. It's best prepared a couple of hours or more ahead of serving to allow flavors to develop. (Note: quinoa can easily be substituted for bulgar).
Feel free to alter ingredients and measures according to taste and harvest.
Its not quite fair that summer harvest begins at the close of school. We got our first cherry tomatoes a week before school ended, but no heirlooms, no corn either. Fortunately some of our school gardens are accessible year round and currently zucchini and squash are plentiful.
Try these zucchini/pasta recipes for those who like their pasta both healthy and flavorful. Enjoy!
Zucchini and Pasta 1
Boil water and cook pasta (use whatever kind you like: fusilli, penne, linguini, whatever). Sauté sliced zucchini with garlic, onions and basil in olive oil until softened. Place in Cuisinart and pulse until chunky. Salt and pepper to taste. Mix with cooked pasta and top with grated Parmigiano or Pecorino cheese.
Zucchini and Pasta 2
Sauté sliced zucchini with garlic, olive oil, hot red pepper flakes, and fresh mint. Place in Cuisinart and pulse until chunky. Salt and pepper to taste. Toss with cooked pasta. Top with grated Parmigiano or Pecorino cheese.
We had out first spring harvest this week: round 8-ball squash the size of tennis balls, dark green zucchinis with flowers still intact and tender green beans that also grew yellow and purple (anything colorful is always a big hit).
With only five weeks left in the school year it is too late to start anything new (though you probably could squeeze in a crop of radishes or lettuce). However for school gardens with year round access we're just getting to the sweet spot. We're planting heat lovers like tomatoes, eggplants, peppers, cucumbers, melons, pumpkins, and peanuts. Peanuts? I never grew them before, I couldn't resist.
Last week I'm at the Hollywood Farmer's Market and I happened upon Hayward Organic Gardening's stall of vegetable seedlings. They were selling peanuts in 4" containers for $3.00 (Note: 3 to a container, if you're careful with transplanting, that's only a buck a piece, and you do want to separate them). Peanuts need a lot of room to grow (I've seen recommendations for spacing at 18" apart in rows 3ft apart) and they need a lot of time to grow (Days to Maturity is 130-140).
If someone didn't tell me these were peanuts I'd swear they were peas. Botanically speaking they are more pea than nut. Nuts grow on trees, peanuts grow in pods which then get submerged into the soil where they remain until harvest. A member of the Legume family, they are a close relative of black-eyed peas. Can't wait to watch them develop.
For more about the peanut see:
1) Growing Peanuts in the Home Garden – Iowa State University
2) The Incredible Peanut – Southern Illinois University

3) Can't talk about peanuts without mentioning George Washington Carver.
Read about his life and legacy (also from Iowa State University)