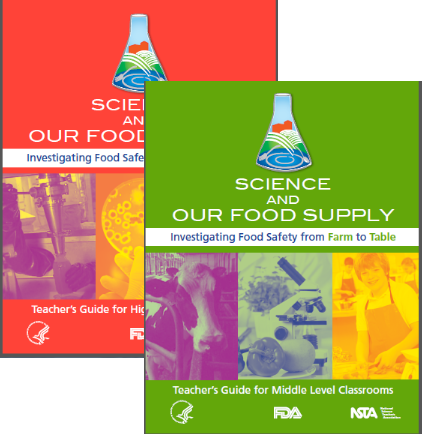 What captures the interest of students? FOOD! Yes, food can be used to engage students in inquiry-based science — really! The Food and Drug Administration (FDA) in collaboration with the National Science Teachers Association (NSTA) have created Science and Our Food Supply, an innovative, interactive supplementary curriculum for use in middle level and high school science classes. An advisory board of experienced teachers just like you developed and tested the materials.
Food safety has become an important national focus. Each year, approximately one sixth of the U. S. population has mild to severe illnesses caused by pathogens in food — and more than 3,000 people die from them. Learning food safety science will enable your students to better understand decisions and practices that may affect their personal health. It will encourage them to step up to the plate and take an active role in preventing foodborne illness.
This curriculum is linked to current education standards.
Science and Our Food Supply Teacher Guides
The Science and Our Food Supply Teacher Guides are challenging hands-on, minds-on activities that link food science and food safety to students' everyday lives. They are crafted in a teacher-friendly modular format that covers food science from the farm to the table. They easily fit into science, health, and other classes.
In each guide you'll find in-depth activities and labs covering this broad range of topics:
~ Bacteria, including Food-borne Pathogens
~ Pasteurization Technology
~ The Science of Cooking a Hamburger
~ DNA Fingerprinting
~ Outbreak Analysis
Click here for Middle Level Guide
Click here for High School Guide