Video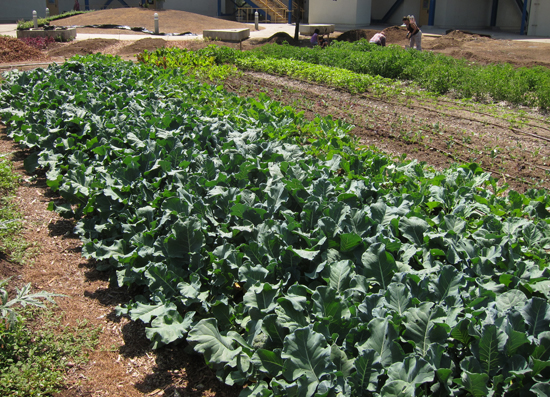 Job creation has been an important theme in our country the last couple of years.  President Obama is struggling with it, the presumptive GOP nominee is struggling with it, and Congress is struggling with it.
At John Muir High School in Pasadena, CA, three volunteers have come up with a school garden model that is creating jobs for students.
On about an acre and a half of land Master Gardener/Project Manager, Mud Baron, Master Gardener/Retired School Teacher (and alumnus of John Muir High), Doss Jones, and Pasadena Unified School District Facilities Grounds Coordinator, Shirley Barrett, have succeeded where so many others have been left baffled.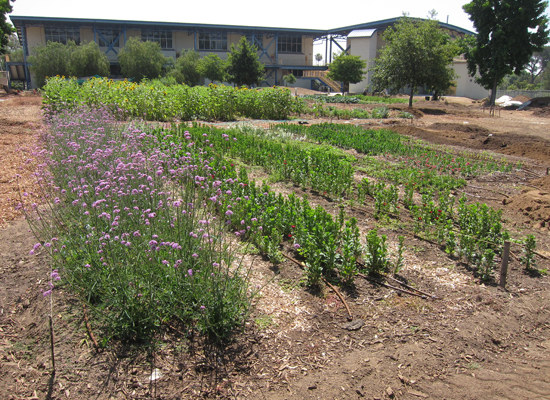 Under their guidance and tutelage and with help from many other dedicated volunteers, students are turning this school garden into a mini-farm enterprise. They are also getting help from various grants and foundations as well as commercial growers and seed companies that provide seeds and seedlings.
Produce and flowers are sold at the Pasadena Farmer's Market and the Hollywood Farmer's Market. Partnership with local farms has created a Community Supported Agriculture (CSA) drop-off hub at John Muir HS for local residents to purchase healthy, organic fruits and vegetables. Produce from the school garden is added to each box.
Students are learning lessons that go far beyond the typical high school experience; they are learning nutrition, commerce and cooperation. They are learning the responsibility of holding a job, showing up on time without excuse, and perhaps for the first time in their lives, earning an honest wage from work completed with their own hands.
Any person who takes pride in their work takes pride in themselves. This is a lesson that cannot be taught without experience. John Muir High School Farm is giving students this experience.
For more information see these video interviews:
1) Interview with Mud Baron
http://youtu.be/A6r3BKDXFno
2) Interview with Doss Jones
http://youtu.be/-9lRJukIwkY
3) Interview with Shirley Barrett
http://youtu.be/RMUaNCYv6mY
Fennel pollen is a gourmet spice collected from a flowering fennel plant. Use it on such dishes as sauteed string beans or grilled chicken.
Harvesting parsley on a regular basis will keep it from going to seed and ensure a steady supply. Being a great source for Vitamin A and Vitamin C be sure to include parsley in your favorite sauces and soups.
When harvesting Swiss chard remove the outer leaves and leave the smaller inner leaves intact for future growth. Swiss chard is a biennial which means it goes to seed after two years. Take good care of your crop and you can experience a very lengthy and productive growing season.
Los Angeles Unified School District is the second largest school district in the nation, and now they are working toward becoming the greenest.
This video was made by fourth grade students in Marca Babcock's class at Parkview Elementary School, Bellingham,Washington. Over the summer they harvest food for their local food bank.
The Earth Day Network Organization worked with Cesar Chevez Elementary School in Hyattsville, Md. to construct the ultimate sustainable garden on the school grounds.
The Ultimate School Garden from Nathasha Lim on Vimeo.