Job Opening – Director Position – Seeds to Plate Program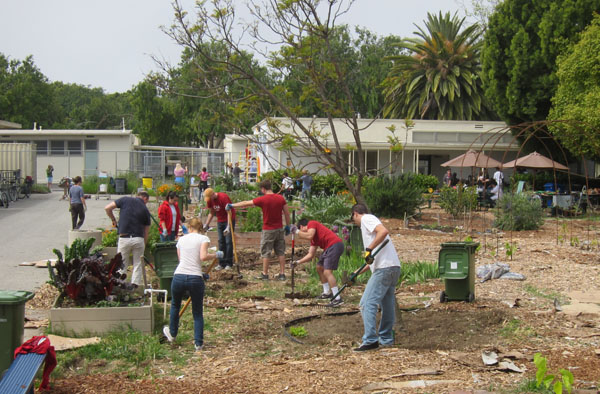 Job Opening: Director Position, Seeds to Plate Program at Mark Twain Middle School, Los Angeles, CA
About Us
The Seeds to Plate Program aims to create and maintain a school garden that is integrated into the academic environment, promote a healthy food culture, nurture physical and mental well-being, and provide hands-on gardening and eating experiences for students, families and staff to foster mutual respect, appreciation of diversity, community spirit and sustainability of the earth. This modern incarnation of the garden program at Mark Twain Middle School was started in 2009, and consists of a team of seven volunteers, predominantly UCCE Master Gardeners.
Position Description
The Director will continue the gains made in the Seeds to Plate Program, develop and disseminate a garden middle school curriculum integrating a broad range of academic and wellness disciplines and promote a garden curriculum pathway from elementary to high school through an agricultural resource center.
Responsibilities include:
Staff Management
● Recruit and oversee garden and teaching volunteer team
● Recruit and hire staff on an as-needed basis in consultation with the Advisory Board
● Lead weekly Seeds to Plate program and teacher meetings
● Manage the day to day relationships with staff, volunteers, interns and partner programs
Program Development and Management
● Direct middle school level curriculum development, both in academics and nutrition / wellness
● Work with staff to disseminate curriculum
● Collaborate with Mark Twain Middle School administration, faculty, and students
● Develop the monthly class schedule in concert with faculty and teaching volunteers
● Teach some classes in the Seeds to Plate Program
● Oversee special events (eg. cooking events, field trips, career development)
● Oversee monthly Farmer's Market activities
Communication and Outreach
● Develop and promote relationships with community partners, LAUSD and funders
● Manage garden workdays
● Establish training workshops
● Maintain social media presence, such as website, facebook, email lists, etc.
Fundraising and Finance
● Collaborate with the Advisory Board on fundraising, including but not limited to grant writing, event planning, and donor cultivation
● Develop and manage the Seeds to Plate program budget annually and review with the Advisory Board quarterly.
Qualifications
● Excellent verbal, written, and social communication skills
● Strong working understanding of the public school system and experience with curriculum, and lesson plan development and implementation
● Demonstrated success in non-profit and staff management
● Experience in fundraising
● Sincere passion for work in environmental and nutrition / wellness education
● Strong collaborative expertise
● Demonstrated creative problem solving skills
● Honesty, integrity, and community spirit
● Ability to work and multi-task within a highly diverse, Title 1 public school environment
● Bilingual / Spanish preferred
● Teaching credential preferred
● M.A. / M.S. in related field, or B.A. / B.S. with relevant experience
Salary: $25,600 (49% time) paid as a UCLA employee
Submit by December 15, 2015 to:
Info@SeedstoPlate.net
Include:
● Letter of Interest addressing qualifications
● Resume
● 3-4 references, including phone numbers